3.Save money
L'inbound recruiting requiert un certain investissement lors de sa mise en place, notamment pour la création de contenus, le community management de la page d'entreprise sur les réseaux sociaux et éventuellement, le partage de tous ces contenus. Néanmoins, une fois la base mise en place, on peut la considérer comme acquise et ne nécessitera plus que de l'enrichissement. Il suffit d'actualiser les contenus – avec un amortissement des investissements sur une année.
4. Easy ROI tracking and staff retention
Inbound recruiting provides crystal-clear figures: how many people were reached by the information you spread? How many were converted? How many were recruited and how quickly? How many remained loyal to the company? You can then adjust your recruitment strategy according to these figures and maximize the profitability of all your recruitments.
How to set up your inbound recruiting?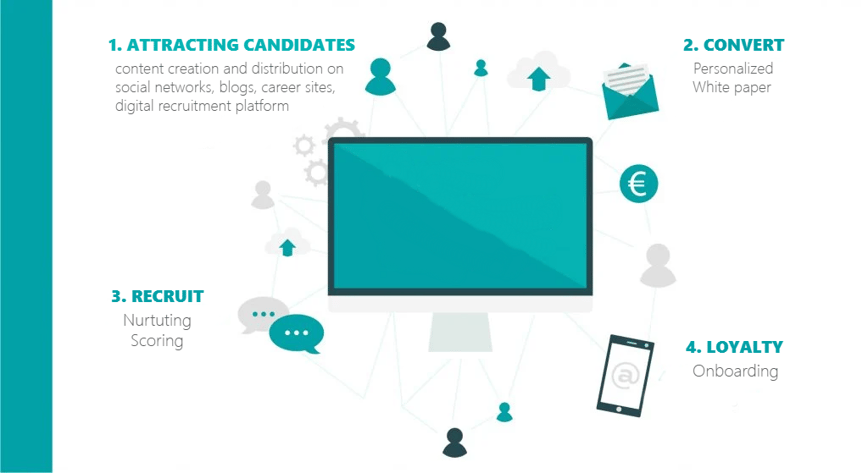 Préalablement à l'inbound recruiting proprement dit, il faut d'abord que vous définissiez vos candidats personae, c'est-à-dire le type de candidat que vous voulez recruter avec autant de détails que possibles : tranche d'âge, valeurs, formations, …
Vous pourrez ainsi plus aisément réussir les 5 étapes de l'inbound recruiting, à savoir :
Attracting the candidate: by creating content that "speaks" to your candidate-personae and by sharing it where they are: social media, blogs, career websites, online recruitment platforms, ... ;
Convert them: through customized emails, white papers or interventions by professionals they can identify with;
Recruit them: conversion is different from recruitment. In the first case, the goal is to win over a potential candidate (they will subscribe to your pages, websites, and will be on the lookout for information and announcements that you will send them). In the second case, you will have to make a decision on the number of converts you want to reach. Nurturing plays an important role here. This involves maintaining the candidate's interest in your company. The same applies to scoring, which is the process of giving a score to each potential candidate in order to isolate and recruit the best candidate for your company, its values and its objectives;
Loyalty: ensure the successful integration of the candidate into your internal team. Onboarding involves providing complete information, sharing information internally and any other means necessary to ensure that the candidate likes working for your company.
Inbound recruiting tools and partners
What has been said above makes it quite obvious that you need the following tools to succeed in inbound recruiting:
A website or a career page: without it, you won't have a "one-stop shop" for recruitment and you won't simplify the candidate experience, which is very important now. As a result, you won't be interesting or trustworthy.
A blog with some information about you and your recruitment method: blogs are easier to read and allow you to get closer to your potential candidates;
Social media accounts (or pages): of your candidate personas, but more generally on Facebook, LinkedIn and Twitter. This will make it easier to communicate with your candidates, to get to know them and to build real relationships. You also need to establish different partnerships to create a community around the employer brand.
Partnerships with blogs or specialized websites: what better way to recruit a geek than to have a presence on geek communities, websites and forums and to be allowed to present yourself and talk about your strengths;
Online recruitment platforms such as Hunteed already have experts on board and a large number of candidates who "follow" the platform. This allows you to spread a message to people who are already more or less "ready" to apply for a particular job.
Conclusion :
Inbound recruiting is therefore a great recruitment "must-have" of the 21st century. It's not about changing your expectations, nor the type of candidate you're looking for. It's simply a set of methods that are better adapted to the contemporary realities of recruitment, facilitating your contact with potential candidates and allowing you to overtake your competitors in terms of talent acquisition.